SOTB!!!'s WIRTB Review: The Aaliyah and Whitney Lifetime Movies
In October 2013, VH1 released a made-for-TV biopic on TLC.
CrazySexyCool: The TLC Story
was well-received, even though people clowned at first the decision to have Lil' Mama play Lisa "Left Eye" Lopes. But...that's another discussion for another day (spoiler alert: I think Mama did well, even though Left Eye for me is kind of how Aaliyah is for Drake, minus me tatting Left Eye on me). The following months, we got news that Lifetime would be releasing biopics on Aaliyah and Whitney Houston. Those films, released in summer 2014 and January 2015, respectively, were met with venom from...pretty much everyone and anyone. So, I've got to ask: were they really that bad?
I'm SOTB!!! and this is another edition of WIRTB Review (at the Movies), the series where I review the crap so you don't have to (in this case, movies).
First, let's take a look at 2014's
Aaliyah: The Princess of R&B
, a film that probably should've stayed in development hell.
#TalentIsEternal. Is this movie eternal damnation?
Originally, cute little Disney idol Zendaya Coleman (she's legal, by the way, so I can say "oh, hey. She's cute. A bit too young for me, but cute") was slated to play Aaliyah. However, due to fan outRAGE, she dropped out. It was probably, aside from going in on Giuliana Rancic, one of the smartest decisions of her adult life.
If she were in her 20s, I'd say "dat's bae." But...nah...
She was replaced by was a young woman by the name of Alexandra Shipp. Shipp was a Nickelodeon star from the series
House of Anubis
(which was pretty much her big thing before this movie, the wack
Drumline
sequel, and
Straight Outta Compton
--notice a pattern here?). Now, Alexandra kind of looked more like Aaliyah so the fans weren't as pissed. But, when the movie actually aired, all that good will Ms. Shipp built up kind of looking like "Babygirl" was quickly thrown out the window.
First, while Shipp looked like Aaliyah, she sounded nothing like her. One of the keys of making a successful biopic of an artist is having someone who sounds like the artist they're supposed to portray. Leon sounded like David Ruffin. Jason Weaver kind of sounded like MJ. Jamie Foxx sounded like Ray Charles. However, Ms. Shipp sounded jackshit like Aaliyah. Add in the fact that Aaliyah's family damned the movie--and their request to use Aaliyah's voice--and you've already got a problem brewing with this film.
Next up, the film skips. A lot. We go from Aaliyah on
Star Search
to Aaliyah with Gladys Knight (with no real explanation of who she is, since Elise Neal doesn't really look like Gladys Knight) to Aaliyah setting up with Blackground. When she's at Blackground, we get introduced to her lover boy--err, grown-ass man: R. Kelly. This is where the movie starts going from bad to worse.
We're supposed to feel comfortable with teenage Aaliyah fucking around with Kellz. Why? Because it's showcased in a cutesy,
Degrassi
meets
Love and Hip-Hop
sort of way. In other words, the acting is stupid, the script is stupid, and the situation is all sorts of fucked up. However, we're supposed to cheer her on in a "you go gurrrrl" because mommy and daddy don't understand her. Now, maybe that's how it really was with Aaliyah. I don't know and I obviously can't ask her. However, that entire subplot failed because it was presented as innocent fun versus the truth: that shit was weird. In addition, having a guy who looks nothing like Kellz somehow makes it even worse.
After Kellz is out of the picture, and Aaliyah is doing it big on her own, we meet (who are supposed to be) Timbo and Missy. As with everyone else in this shitshow, no one looks really like their real-life counterpart. The acting is still shit. And Aaliyah performs songs live in ways that aren't accurate. Now, a little fact-checking would've helped this movie a lot. It's like Lifetime got together, said "all y'all naggers look alike" and cast who-the-fuck-ever, regardless of resemblence or acting ability, in this clusterfuck. Nevertheless, it continues downward. Why?
Well, for starters, fact checking. It is your friend, Lifetime. Use that sumbitch. Secondly, there's no real story after Aaliyah starts working on the
One in a Million
album. There's a mention to her film career and a mention/glimpse of her Oscar-nominated song from
Anastasia.
But, before you can say "I Care 4 U," the film's over with a text epilogue explaining Aaliyah died in a plane crash. We didn't even get any sort of look at that last album. Now, of course, I'm not saying that the film had to show the crash. Fuck that. But, Aaliyah was a creative person. Why not actually show her...creating shit? Instead of showing this young woman who was, by most accounts, business-focused, mature-for-her-age, and a musical genius, we see her being boy crazy over R. Kelly and Dame Dash.
Suffice to say,
Aaliyah: The Princess of R&B
was
that
bad. But surely Lifetime would learn from their mistakes. Surely, Angela Bassett would right the black-pop-idol-movie ship that Lifetime seemed so hellbent on crashing. Surely,
Whitney
would be a better movie. Right?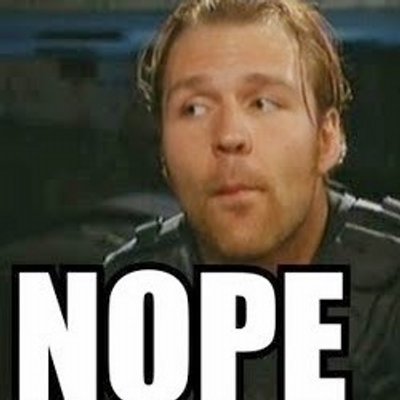 2015's
Whitney,
starring former
America's Next Top Model
Yaya DaCosta as Whitney and Arlen Escarpeta as Bobby Brown, was directed by one of the greatest actresses of all-time in Angela Bassett. Bassett, who came to prominence by appearing in several biopics (including
Malcolm X
and
What's Love Got to Do with It?
), would seem to know a thing or two about a great biopic. However, the final result seemed more designed to show us sex over substance (no pun intended).
Most of the movie consists of Bobby and Whitney fucking, talking about fucking/fucking up (in some way), or Whitney catching Bobby fucking someone else. I, watching the movie with my significant other, actually felt a bit uncomfortable. And you're talking to a guy who's had a white chick
call him the n-word
while he was balls deep.
When they're not fucking, they're...well, what
are
they doing? The movie doesn't really focus on Whitney (or even her music) as much as it does her relationship with Bobby. Yes, "Bobby and Whitney" is a couple that'll be forever etched into pop culture. But, if you're making a biopic on one of the greatest artists of all-time, to reduce her life to a couple scenes of drugs and some "I luh you Bobby" moments is sheer fuckery.
On top of that, the acting was bad. Now, it's Lifetime, so that's expected (sorta). And, with the animosity that Lifetime amassed with the Houston family, it was expected that the film would turn out badly. But, DaCosta lazily lip-synching Deborah Cox covers of Whitney songs, complete with heavy auto-tune, while being, pretty much, the whiny side chick to Bobby Brown (who may legitimately have more screen time/character development than Whitney's character, even though that's not saying much)?
.
Avoid both these movies--at all costs.
Next time on WIRTB Review (at the Movies), I'll take a look at the career of Wesley Jonathan, who, coincidentally, played Babyface in the
Whitney
movie. Remember: I review the crap, so you don't have to.