Discography Check R&B: Trey Songz
Discography Check R&B:
Trey Songz
After 10 years in the game, Trey Songz remains one of the more popular R&B artists in the game. Arriving on the scene with his debut album "I Gotta Make It", Trey instantly garnered attention and comparisons to legends such as R. Kelly(his biggest influence). While Trey's ability to capture the ladies was the norm in R&B, his knack for also making music the fellas can enjoy is what made him stick out. He didn't make extra sappy R&B, he was somewhere in the middle, with the right balance, similar to his biggest influence. Today, I wanted to look into his catalog and see how his albums hold up, including his Anticipation mixtapes and this newly released " Intermission" EP.
*I Gotta Make It
-Trey's debut album, released on July 26, 2005, is still my personal favorite official album of his. It reflects where a young Trey's mind was and seems to be his most honest album. While the R. Kelly influence shows through very much on "From A Woman's Hand" and "Hatin Love", it's the songs such as "Ur Behind", "Gotta Go", " Cheat On You" and more that allowed us to see Trey's personality shine through in his lyrics. This album is his least commercially successful, but at the essence, it is his truest album. Young Trey was ready to take on the world, garner success, and showcase his talents. While critics have said this album lacked a big hit, it had what the rest of his albums have missed: cohesion.
Rating: 8 out of 10
Standout Songs: Cheat On You, Gotta Go, Kinda Lovin, Ur Behind, In The Middle.
*Trey Day
-I remember when this album first came out, I hated it. It was pushed back a few times, until being released on October 1, 2007, cracking the Billboard charts debuting at no. 11 with about 73,000 sold the first week, an improvement over his first album's commercial performance. The album itself is a bit all over the place and sees Trey take a slight departure from the comfort zone established on his first album with tracks such as "Wonder Woman" and "Missin You". Trey returns to that comfort zone on "Can't Help But Wait", which became his highest charting song at that point. There are some good songs here like "Last Time", "Long Gone Missing", "Role Play" and a few others, but the apex of this album is reached when Trey sings a song handcrafted for him by R. Kelly. "Grub On" is the best song on this album for a few reasons: the absurdity, the hilarity, the infectious nature of the melody, and the quotable lyrics. There were very few true standouts on the album, but "Grub On" is without a doubt the best song here. This album wasn't and still isn't one of my favorites, but it set the tone for Trey as he was gearing up to finally breakthrough.
Rating: 6 out of 10
Standout songs: Grub On, Last Time, Wonder Woman, Can't Help But Wait
*Anticipation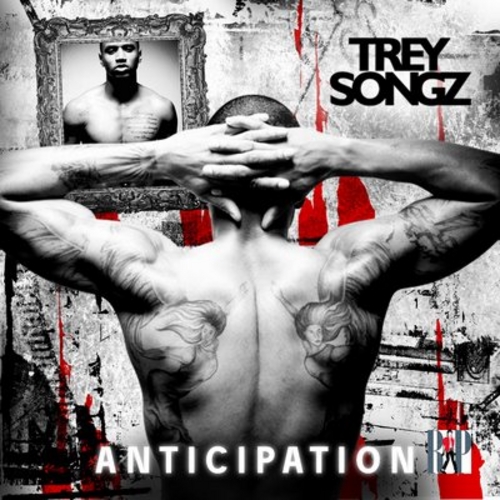 -This is technically a mixtape, but I consider it a free album. Consisting of what I assume are leftovers from his "Ready" recording sessions, this is Trey's best project period. Released via DatPiff on June 30, 2009, this project is relatively flawless and features Trey in his element seamlessly weaving through each track. From the opening chords of "Famous" to the final word on "She Ain't My Gurl", this project stands as his greatest collection. The moment when this mixtape reaches its highest point starts at "You Belong To Me", which is one of his best songs ever. The high point continues through the greatness of "It Would Be You", a smooth ballad speaking to the lady in his life telling her that there's no one else in the world he'd rather be with. Trey goes back to his comfort zone with the sexually charged "Make It Rain", which is equal parts dope and hilarious, where Trey shines the best. The only song I didn't care too much for was "Does She Know", but its not a bad song by any measure. Be sure to listen to " Infidelity", which is an honest look at the hell that Trey seemed to be taking his woman through at the time, which is easily relatable.
Rating: 9 out of 10
Standout Songs: Scratching Me Up, Infidelity, You Belong To Me, More Than That, It Would Be You, Make It Rain
*Ready
-This is where Trey's ascension into stardom truly started. Released on August 31, 2009, this album cranked out hit after hit, becoming Trey's first(and only) certified platinum album. I've always felt that this album was a tad inconsistent as far as cohesion goes, but one cannot deny the strength of the singles. The album started with a false start single wise, as "I Need A Girl" really didn't connect with the masses. He rebounded with the "LOL :)" and "I Invented Sex" tracks, as both dominated the radio airwaves, leading him to debut at no. 3 on the billboard charts selling 131,000 first week. Quality wise, there are some great songs, but the 2nd half of the album feels a bit uninspired. Right after "Jupiter Love", the album loses all its magic. The monster hit "Say Aah" has to be Trey's biggest ever, as it hit no. 9 on the Billboard charts, and is still being played in various bars and clubs as a party starter. All in all, "Ready" is a pretty good album, with a few missteps, and stands as Trey's breakthrough album.
Rating: 6.5 out of 10
Standout songs: Say Aah, Neighbors Know My Name, Jupiter Love, I Invented Sex
*Passion, Pain, Pleasure
-In an attempt to strike on the staying power of his "Ready" singles and success, Trey released this album almost exactly a year later on September 14, 2010, and I actually think this album is slightly better than "Ready", just without the consecutive massive hits and staying power that " Ready" garnered. Trey did however continue his trend of increasing album sales first week, as "Passion, Pain, Pleasure" sold 240,000, nearly doubling the first week sales of "Ready". Trey came out the gate with a crossover hit in "Bottoms Up", which hit no. 6 on the Billboard charts and continued his streak of hits. Trey followed that up with "Can't Be Friends" and "Love Faces", both good singles, but neither hit the top 20 of the Billboard Hot 100(though "Can't Be Friends" hit no. 1 on the R&B/Hip Hop charts). This album was a bit more cohesive than "Ready" and the concept of Passion, Pain, and Pleasure may have been the reason for that. This album has sold 850,000 in total and I'm almost certain that in a few years it'll be certified platinum, giving Trey his 2nd platinum album.
Rating: 7 out of 10
Standout Songs: Alone, Love Faces, Made To Be Together, Red Lipstick, Unfortunate, Doorbell
*Anticipation 2
-Sometimes, you don't need to make a sequel. I felt that Anticipation 2 was unnecessary, and while its a solid project, I didn't see a point for it. Released on November 1, 2011 via DatPiff, it came 3 weeks before Trey put up out an EP. I won't include "Inevitable", his 5 song EP on this discography check because a few of those songs are on "Anticipation 2". I'd have just imagined that Trey could have made "Inevitable" a full length album with the few songs from the EP combined with the songs on "Anticipation 2". However, this project has some great songs, keeping with the style of the first via song sequels such as "Still Scratching Me Up" and "Me 4 You Infidelity 2". These songs are not necessarily better than the original, but both provide a bit of cohesion to the project with the nod to the first. To me, the strongest songs on this project are "When We Make Love", "Inside Pt 1", and "Bomb(A.P.)". These songs capture what is him at his best. At 15 songs, the mixtape has a bit of filler, but is still solid overall, just pales in comparison to the first.
Rating: 6.5 out of 10
Standout Songs: When We Make Love, Top Of The World, Me 4 You Infidelity 2, Inside Pt. 1, Bomb(A.P.)
*Chapter V
-This is Trey's worst album to date, released on August 21, 2012. While it is his first album to debut at no. 1, selling 135,000 copies the first week, the album ran way too long at 19 songs(20 songs if you had the iTunes version) and a majority of the album is filler. The album starts off well with the single "Dive In", followed by " Panty Wetter", then leading into another single "Heart Attack" and the pretty decent "Playin Hard", setting off the tone great. However, after these songs, the next 5-6 songs are all uninspired or just unnecessary. The pace picks back up with his "Inside Interlude" and the great "Without a Woman", but once again falls as the album nears the end. With an over reliance on rap features via Rick Ross, Meek Mill, Diddy, T.I., Young Jeezy, and Lil Wayne, this was the album when I had to wonder why Trey didn't work with more R&B artists on his albums instead of using the uninspired rap features. It tends to take away from the song and the album itself. If Trey had trimmed this album doen by 5-6 songs, I could hold this in higher regard.
Rating: 4.5 out of 10
Standout Songs: Without A Woman, Heart Attack, Panty Wetter, Playin Hard
*Trigga
-If "Chapter V" was Trey's worst album, then "Trigga" is not too far behind it. Released on July 1, 2014, "Trigga" is Trey's 2nd no. 1 album, selling 105,000 first week. Another uninspired album from Trey, it has its moments and has fewer rap features than "Chapter V", which helps it some. Kicking off with what I feel is the best song on the album "Cake", then continues to the two singles "Foreign" and "Na Na", "Trigga" reveals the issue with Trey's decline somewhat. Focused on creating songs for the nightlife instead of the "night time" has effected the quality of his singles and by design, his albums. Songs like "All We Do" and "Smartphones" are solid, but keeping in line with his whole discography, you notice the change in his artistry. Trey, with the commercial success, has leaned towards more party starter songs, which don't always work well for him. The album itself is slightly better than "Chapter V", but neither seemed to have any staying power, leading the listener to wonder if Trey's time has passed.
Rating: 5 out of 10
Standout Songs: Cake, Smartphones, Change Your Mind, Foreign
*Intermission
-Released officially on April 13, 2015, this six song EP is almost a return to form for Trey, as he gears up the re-release of "Trigga", which is titled "Trigga Reloaded" and will feature new songs. However, "Intermission", which comes while he's on tour on Nicki Minaj, is solid all around. Only 6 songs long, there's no room for filler and almost each song is great in its own right. Could this be a sign of things to come on "Trigga Reloaded" or his upcoming seventh album "Tremaine"? One can only hope. Kudos to Trey for bringing it back around with this solid EP and I hope he keeps up this momentum.
Rating: 7 out of 10
Standout Songs: Don't Play, Good Girls vs Bad Girls, Talk About It
.
At a total of 9 projects(10 if you count "Inevitable", since we won't count any of his rap "LemmeHolDatBeat" mixtapes... Avoid them), Trey has a decent discography, which might be a lot better if he hadn't released so many in a short amount of time after Ready hit big. With his return to form with "Intermission", maybe that elusive classic album(Anticipation is a classic mixtape) will arrive on his seventh. Only time will tell.
Peace and Blessings,
True