DAR Interviews: Jolene Marz
Positive energy is something sorely needed in these troubled times. That and raw sexual energy. Thankfully, today's DAR Interviewee has both by the bundle. Jolene Marz is a model and performer on MyFreeCams.com. From the moment Speed first spoke with her, he knew that she'd be a perfect fit for a DAR Interview. So, without further ado.

Speed: Can you give us a little introduction as to who you are?
Jolene: Heyyy! I am Jolene Marz! I am the goofy, intelligent, and sexy trifecta currently performing on MyFreeCams.com!
Speed: How long have you been modelling and camming?
Jolene: I have been in and out of traditional modeling since I was 15. A chaotic lifestyle led me far away from my goals in modeling until recently, when I lost over 80 lbs. and gained my dreams back. I don't feel that I couldn't model before losing weight, there's many gorgeous women of all sizes, but it was an appearance that didn't feel organic to me and I couldn't own it. Over the course of the last two years, I've found Jolene and started camming in March 2015.
Speed: How'd it start? Was it kind of on a whim and you went with it or did you set out one day and say "I'm going to get in on this whole shebang and make people happy while I make myself happy?"
Jolene: It started almost two years ago, I was scanning Craigslist for an "at-home" job and that's when I learned that camming was even a thing?! HAHA! When I'm on cam, I often laugh about being "squirrel," but my attention deficit has led to quite a shortage in interest in working as scheduled. I've found that I'm an ever-changing person and I get so restless! I was looking for something I could build and control independently. I thought, "hey, I don't mind showing my stuff, I love sex...this could work!"
I was in a darker time with my health and my weight still, so I always kept that little idea in my head instead of following through. Fast forward to February this year and, being the wacky-spiritual-universe-loving type, I started seeing a bunch of signs pointing towards camming. I met a pretty awesome pornstar at my previous job and one of the first things he started talking about was camming! I felt like I had someone to talk to about it and he was a wonderful brain to pick about the industry; he was the impetus I needed to take the leap. I did some research and found that MyFreeCams seemed my speed for now. I thought this was just going to be about showing vagina for money, but I had no idea what it would do for my soul. I'm constantly learning about myself and how people interact in this world. There's some amazing growth and friendships that come from this.
Speed: Can you tell me a bit about your first show?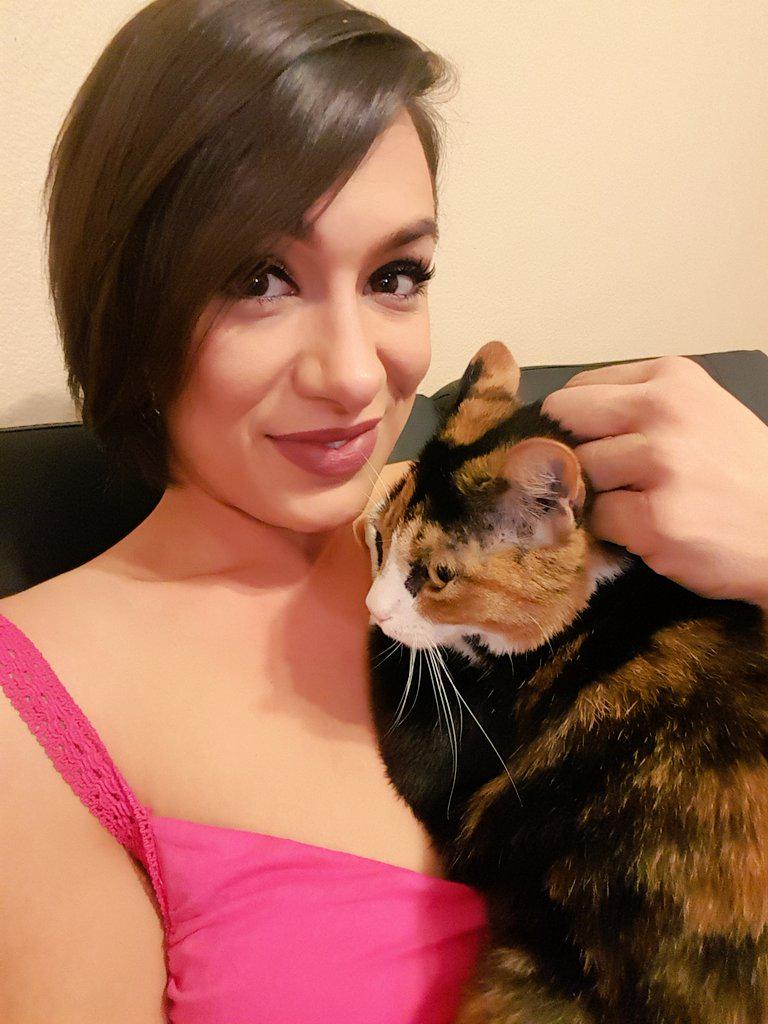 Jolene: My first show was scary as fuck! I knew if I didn't literally trick myself into spontaneously broadcasting one night, I may talk myself out of it forever. I was so unprepared. My hair was terrible! I sat with my finger on the mouse, pointing on the start button, barely breathing, until I said something like, "one, two, thre- FUCK IT" and clicked!
People started flooding the room and the PM's! Oh god, the PM's! I didn't choose the setting to place all private messages in one conversation box, so they started covering my screen like when you watch porn without a pop-up blocker. A few stuck around and were really helpful and most tried to take advantage of my new model status. I put up a countdown to take off my cardigan and this guy created a comment in my room that looked like a tip! I was so excited to get my first tip that I threw my cardigan off without realizing the tip sound never happened. A bunch of dudes were frantically typing, "wait! It's a trick!" I laughed my ass off and went ahead cardie-less just to give dude props. I left that night ON FIRE! I had so much fun and totally fell in love with camming.

Speed: What would you consider to be your favorite scene/shoot?
Jolene: Since I'm so new, I honestly don't have a favorite shoot yet. Ironically enough, some doors opened today that will most likely give me some AMAZING opportunities for favorites. I will say, I made a video that is 100% real, spontaneous squirt. I've learned some pretty rad things about my body since starting this adventure.
Speed: Well, I'm already a big fan (laughs). I'm all for body exploration and positivity. So, what about your favorite position?
Jolene: Oh myyyy...someone in my chat recently informed me that it's, like,

EVERY girl's' favorite position, so I'm sorry if I'm going cliche with this one: straddled from behind, while I lay on my tummy!
Speed: Do you have any one model, pro or amateur, that you'll give anything to shoot with? Male or female, it doesn't matter. And why?
Jolene: Just ONE?! You just can't limit me to one, that's terrible.
Speed: Fair enough. How about the one you have at the top of your list?
Jolene: I think Jessica Wilde would be awesome to chill with. Her YouTube video "So You Want To Be a Camgirl" is one of the first things that made me decide I could really do this. Ok! And it made me decide I could really do her...man, I'm a #creepycammer...
Jolene: I have worked with domestic violence shelters and am actively seeking better ways to help this worldwide problem. We are currently facing an increase in domestic violence cases despite the huge strides we've made in awareness and equality. It's crazy how we can watch these situations with celebrities and have so much outcry, then see an increase in statistics? I'm sure there's millions that would make the argument that what I do contradicts my values.
Creating porn independently, having control over my body and what happens to it, while being cherished by fans and treated like a goddess, is most definitely empowerment in this avenue. I feel like cam models and independent adult performers are paving the way for this social ideal where women

CAN have power. Women CAN have orgasms! The industry is well known for its use of women, but as independent performers we have control and can change that factor. I could be wrong, but I feel like healthy sexuality aids in healthy relationships. Sex is a huge part of our identity, emotional development, and self-worth... imagine if we all felt empowered by our sexuality instead of oppressed? It could be a gift that one shares with another!? Woah.
Speed: Who are some cam models you look up to, or are you kind of blazing your own trail without sticking to tradition?
Jolene: I've been watching a lot of models since day one. I think it's part of personal and business development. I really love the way Kendra Dawn is completely herself and is just constant fun, I try to emulate a lot of her style in that sense. I also really love Jolene Brody. I've watched her a lot and love her energy, her power, and she's totally gorgeous! I was recently in contact with Jolene and she is insanely sweet too! She is an intelligent business person and having that command really helps defeat so many misconceptions about camming.
Speed: So, you'd say the term "cam model" has a "bad" connotation among many people?
Jolene: What I've learned about being a "cam model," is that there's this extremely insulting misconception about why we do what we do. I think "cam model" has a bad connotation in the way that most just think it's hot chicks masturbating for extra cash. It's not taken seriously. It's something that is unfortunately tainted by distorted equality ideals within society.
Camming is a female-dominated career and we are offered independence, power, and control in this position. Plus our bodies are involved! AH! Chaos! So it's belittled and often completely misunderstood. I get asked "so what do you do besides camming?" or told, "I get it, you're just doing this for the money." Well, yea? Are you selling cars for the money? I have "not here for a boyfriend," on my twitter bio because I couldn't handle the amount of men that approached me as if they just read my Match.com profile. To most, this isn't a job, it's a "side thing" that we do because we're horny bb's obsessed with taking naked selfies.
Speed: What is the wildest request you've received? I've heard everything from balancing high heel shoes--hi Melody--to incest to farting to ball crushing encouragement. So you probably won't surprise me too much.
Jolene: A grin just spread across my face like the Cheshire cat! So, people are weird. I love it! More recently, I had a guy that loved my eyebrows and wanted me to touch them while we were in a private show! Oh my god, I don't think I could have been more awkward about it. Imagine The Fonz in Chippendale's. My eyebrows are on fleek as fuck, though.
Speed: Ok. I stand corrected (laughs). I notice that you're pretty positive. Any advice for people looking to emulate your positive energy?
Jolene: I am definitely not always positive, everyone has their days. My faith lies in the idea that whatever may be out there that is greater than myself, will always provide when I consciously live in positivity. Wow, I feel like a crazy hippy speaking on this...
So, as I mentioned before, I love Jolene Brody and watch her a lot. I will watch her from a place of complete respect and positive energy, and I would often contemplate my career goals and dreams with camming at the same time. Then one day I favorite one of her tweets and next thing I know, she's sending me a message and has some insane opportunities available to me! That! It's a choice and you can literally create it. I think it has to do with a lot of love and respect for everything around us. Is that gratitude?
Speed: Gearing up to close out, what are some of your favorite genres of music and favorite artists in those genres?
Jolene: I've been really into this funky Indie band lately called Glass Animals. Their YouTube mix led me to artists like FKA Twigs, Banks, Chet Faker, and First Aid Kit. My roots, however, will always be

old school

hip-hop. Artists that can never be replaced like Nas, Rakim, AZ, RZA, Biggie, Gang Starr, Mos Def, Talib Kweli, Mobb Deep,etc, etc. Now I want to finish this interview so I can go break open the giant, dusty CD binder!
Speed: Sounds like I may be able to get you to check out some DAR--shameless plug. But, where can people reach you?
Speed: Do you have any additional words of wisdom you want to give to the audience or any last shoutouts?
Jolene: Love is love. Follow my pretty pretty princess @BoPaisley! To all my MFC friends and supporters, I love you guys! Thank you for keeping the path lit! TOP 20, oh, I'm cumming!
Photo Credit(s): Twitter.com/JoleneMarz