DAR Roundtable: Best Hip Hop Diss Tracks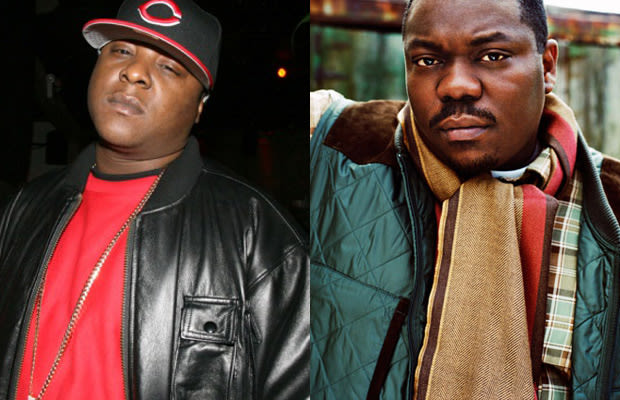 In hip hop, the art of battling was essentially the foundation. Competition amongst MCs, the camaraderie in the midst of it, it was the natural way of doing things in hip hop. Today, hip hop is watered down in that sense. As evidenced by the fuckery that is Meek Mill vs Drake, the Kendrick "Control" verse debacle, and even a Tyga vs Drake feud, nothing in hip hop "beef" is really the same or even authentic. We all sat down and decided to come up with a list of our three favorite diss tracks. Keep in mind, we don't take into consideration what the popular opinion says are the top 3, but rather what WE personally think are the top 3. The lists were so tough, some of us even had to include a honorable mention choice/choices. If you agree or disagree, or just appreciate the topic, chime in below on the comments or tweet us all.
@ShokusApollo
*Nas- Last Real Nigga Alive
-My favorite all time diss because of what was going on at the time. The Jay and Nas beef was nearing an end after countless subliminals and classic diss tracks. The reason why I love this track is because it's more of an account of what the origin of the beef was. It was more truthful and actually felt like a "conscious diss" instead of just empty threats on a track. Nas was actually spitting some pain where he talked about his mother and how he felt attacked pointlessly by Jay in this very troubling time in his life. He still managed to call Jay "Manolo" compared to his "Scarface". It is really an all timer.
*2Pac - Against All Odds
-The most important rapper that ever lived almost showed up twice on this top 3 list for me(Hit Em Up just missed the cut). He is the "lord of the diss tracks". This is more of a thoughtful song where he just goes off on Nas (who admitted he was crying after he heard this), Diddy, Dr. Dre and Mobb Deep to name a few. The last track on what I think is his best album, Makaveli, has Pac just waging war on these guys, not giving a fuck.
"You living fantasies nigga, we reject your deposit/ we shook Dre punk ass, now he outta the closet/"
. Epic.
*Nas - Ether
-Nas killed Jay on this and won the beef, nuff said.
Honorable Mention:
2Pac- Hit Em Up
Jay-Z- Takeover
50 Cent, Busta, Em- Hail Mary 2003
@AXELWORLD4EVER
*DJ Quik- Dollaz and Sense
-I dont know the origin of this beef, but diss tracks between Quik and fellow Compton rapper MC Eiht went flying back and forth in the mid 90's. This 1995 classic right here was the death blow, not only due to the fact that Quik obliterated Eiht with lines such as
"E-I-H-T now should I continue/ yea you left out the G cuz the G aint in you"
, as well as
"All the way around nigga I get respect/ and you a nigga that cant even get props in your set/"
, then used his government name and talked about multiple situations where he caught him slipping in person and claimed Eiht didnt want any problems. All of Eiht's responses were relatively mediocre and he could never recover any mainstream success after this track (After having a classic in Straight Up Menace).
*Eazy E- Real Muthaphuckin G's
-Nobody on here was particularly lyrical, but Eazy-E delivered some venom on this track.
"I hope that your fans understand when you're talking about spraying me/ the same records that you're makin is paying me/"
. He then followed with
"But Dre Day only meant Eazy's payday, all of a sudden Dr Dre is a G thang/ but on his old album covers he was a she thang/"
, then hit him again with
"It's a trip/ how niggaz can switch so quick/ from wearing lipstick/ to smokin chronic at picnics/"
. Eazy didnt pull any punches and the tremendous beat really drove the point home. Definitely a top 3 diss track of all time.
*Common- The Bitch in Yoo
-Pete Rock laced Common with a fire beat and he just unloaded after sitting by and not saying anything. Westside Slaughterhouse was the final straw. Common mentioning Boyz N' The Hood in "I Used To Love H.E.R." and Cube perceiving it as a diss is what sparked this classic track. Common basically calls out the numerous times Ice Cube contradicted himself and did it in a calm manner, which was hilarious. He had standout lines such as
"Wanted to cease from the Midwest to the East/ on the dick of the East for your first release/"
then connected with
"and violate you, a Muslim drinking brew/ Your nigga ain't no Mack 10, he's a 22/"
. Common went for the kill with
"Hypocrite/ I'm filling out ya death certificate/ slangin bean pies and saint ides in the same sentence/ shoulda repented/"
and
"went from Gangsta to Islam to the dick of Das Efx"
.
Honorable Mentions:
*Three 6 Mafia- Live By Yo Rep, *Twista- Suicide
*Playa Fly- Triple Bitch Mafia
*LL Cool J- The Ripper Strikes Ba
ck
@Tariku_
*Nas- Ether
-Nas was hitting a bad stride of mediocrity after It Was Written. Most people from my father's generation thought it was over for him until a dominant MC by the name of Jay-Z woke up the beast once again. Takeover off The Blueprint was a diss track towards Nas and Mobb Deep. After that diss made waves in the Hip-Hop community, Nas would bounce back with Ether, an angry and determined fueled track that went not only Jay-Z, but Roc-A-Fella as well (
put it together/I Rock Hoes, y'all Rock Fellas/
). Ether and the album Stillmatic would rejuvenate Nas' career and re-introduce him as force to be reckoned with.
*LL Cool J- Ripper Strikes Back
Canibus, a young and hungry MC was given the opportunity of being on a track with one of his favorite rappers, LL Cool J. The track 1, 2, 3, 4 is infamous as the track that started the beef, with Canibus asking LL to borrow the mic on his arm. LL, feeling threatened would change his verse, telling the young MC that if anybody took his mic on his arm it would transform into a time bomb. Canibus would respond with 2nd Round KO. The diss was praised and most thought that a Hollywood drunk LL would not be able to bounce back. The Ripper Strikes Back was LL proving once again that he's not to be fucked with when it comes to a battle.
"Ask Canibus, he ain't understanding this/ Cause 99% of his fans don't exist/"
. Canibus hasn't recovered since.
*Eminem- Nail In The Coffin
Eminem had been raging war with the Source for what seemed like an eternity. Benzino was corrupting the Bible of Hip-Hop and sent shots at the wrong angry rapper. Nail in the Coffin was literally a burial of the once popular magazine. Eminem went personal with Benzino, claiming that no one in the Hip-Hop community really respects him. He also sent shots at anyone who sided with Benzino with an ending that was simple, but funny enough to fit Eminem's style. The Source has since fallen from grace. Sort of hilarious that a white rapper started the downfall.
Honorable Mention:
*Common- Sweet
*Ice Cube- No Vaseline
@PorshaIsBack
*Nas- Ether
-Jay-Z is my favorite current rapper (and 3rd on my top 10), so it pained me to admit that this was by far the best diss track I had ever heard. In verse 2, Nas kills it. Again, as much as I hate to admit it, he quotes Jay and points out his hypocritical statements (
ex. "first, Biggie's ya man, then you got the nerve to say that you better than Big/ Dick sucking lips, why not you let the late, great veteran live/"
). Verse 3, again the sting factor is high, especially since Nas adequately and perfectly addresses the claims Jay made in the Takeover. (
ex. "Ask me if I'm tryna kick knowledge? Nah, I'm tryna kick the shit you need to learn through/ that ether, the shit that make your soul burn slow/ is he Dame Diddy, Dame Daddy, or Dame Dummy?/ Oh, I get it, you Biggie and he's Puffy/"
). In my opinion, everything Nas says is accurate, the sting factor is through the roof, and he takes down the opponent flawlessly.
*Canibus- 2nd Round KO
-I remember when this track came out, I listened to it wide-eyed and in disbelief. I was incredibly impressed at the way Canibus let this beef chill for a bit and then dropped this when no one was expecting it. Since the initial beef was because of a comment made about LL's mic tattoo and rewriting his verse in "4,3,2,1", I thought it was so amazing that 'Bus brought it up AGAIN in this track. First verse took shots at his fan base being women which insinuates perhaps a lack of respect from male peers, and he also sheds light on the hypocrisies of LL's words versus the reality of how he is (
ex. "Researched your footnotes/ bout how you used to sniff coke/ fronting like a drug-free role model, you disgust me/ I know bitches that seen you smoke recently/"
). The next verse, Canibus highlights the fact that LL isn't the best rapper and brings LL's mom into it. If you want sting factor...it doesn't get better than that.
*Jadakiss- Checkmate
-I've always loved Jadakiss' lyrics and flow and on this track, he doesn't disappoint. He takes shots at 50 for only gaining fame because he was shot. I loved when he said
"since when is it cool to get shot and not shoot back"
and then Kiss goes on to say
"you ain't get shot again yet so what's your second album about? nothing"
. Jadakiss has always been a rapper that, in my opinion, has shown talent and skills and gained his fan base off of that. I absolutely loved that he shows the difference between himself and 50 on this track.
Honorable Mentions:
*Snoop Dogg-Pimp Slapp'd
*Lil Kim-Black Friday
*Jay-Z- Takeover
@SpeedonTheBeat
*BDP- The Bridge is Over
-I had a hard time choosing between this one and Hit Em Up. I went with Bridge because of its place in hip-hop. It's essentially one of the first modern day diss tracks. It's scathing. It's got punchlines. The beat is legendary.
*Jay-Z- Takeover
-Where people say Nas won, they seem to miss this track and Super Ugly. See, Ether is/was more of random insults. Takeover went for the jugular in ways outside of just calling someone "dick lips"(pause) and whatnot. Takeover aimed to destroy Nas, Mobb Deep, and everyone else who Jay had troubles with.
*Game- 300 Bars and Runnin'
-Game literally rapped for about 15 minutes about all of his detractors. It gets a spot mostly because of the sheer absurdity behind it. Plus, it kind of went in.
Honorable Mentions:
*2Pac- Hit Em Up
*Canibus- 2nd Round Knockout
*Drake- 5AM in Toronto
*Cam'ron- Gotta Love It
@GoGoACH
*Jay-Z- Takeover
-Jay-Z was the first rapper that I heard spit facts. Also, he came at Nas smart. Not like most dudes were doing at that time. He spoke about the facts and kept it real without needing too much of the tough talk or gunplay.
*UNLV- Drag Em N The River
-This was the first diss track I ever heard. They were taking it to Mystikal here and I had knew who Mystikal was a kid, so I could only say "Dafuq!", when I heard this one. Classic.
*Nas- Ether
-Let me be honest, I'm a huge Jay fan so I always choose Takeover instead of Ether, but I can't lie, Ether is technically the better song. Ether was raw, dope, but Nas shouldn't have did my dude Jay like that!
Honorable Mention:
*50 Cent- How To Rob
@TrueGodImmortal
*Beanie Sigel- Jadakiss Diss
-This is likely the most slept on diss in rap history. Beans vs Jada, hell The Roc vs The Lox if you will, was a classic battle that went bar for bar. I enjoyed Jada's diss to Beans, but Beans completely blacked out on this one. Spitting over Jada's "Put Your Hands Up" beat, Beans goes until the track runs out and asks to spit another verse as it fades out. Epic.
*The Notorious B.I.G.- Kick In The Door
-A lot of people sleep on this one, as far as a diss. It was aimed at quite a few people actually, not just Nas, as it was explained before. Big went at Nas, Raekwon, Ghost, and even Jeru The Damaja(over a Premo beat nonetheless). This was a lyrical exercise and a complete taking of the throne in hip hop. Big was seemingly ready for war at this point.
*Ice Cube- No Vaseline
-Cube left NWA and as things went sour, he felt the need to stand as a man alone against the whole crew and well..... He did just that. This track was vicious, with Cube spitting some of his hardest rhymes while on a mission to take down his old homies and get his solo respect. It worked.
Honorable Mention:
*Nas- Ether
*2Pac- Against All Odds
*Common- The Bitch In Yoo
*50 Cent- Back Down
Conclusion
With hip hop being in a much more peaceful state than the past and lack of true veef, we took a look back and had fun. What are your favorite disses? Let us know velow in the comments.
-DAR