A Sit-Down with Human (@HumanFunction)
(Conducted by @TrueGodImmortal)
1. First and foremost, let the people know who you are and what you represent.
Human: My name is Charles, A.K.A. Human, and I represent Roseland of Chiacgo's south side.
2. How long have you been making music?
Human: I've been rapping for a good ten years, actually. Ten or eleven. I wrote my first rap to Ma$e's "Breathe Stretch Shake", and that was like '04...so, most likely eleven.
3. What was your inspiration for getting into hip hop?
Human: When I was a little kid, I used to sneak and watch [adult swim] on Cartoon Network. And they ran an ad about an MF DOOM EP that they were making available to download for free. At that point, all I had on my little mp3 player was anime theme songs and video game music I could get for free (Ed. Note: Sounds like Speed in a sense around this time), so I felt like giving DOOM a shot after my cousin put me on. That ended up being the first hip hop that really inspired me.
4. You recently released a new EP, I'm Glad He's Dead (seen above), which features 4 tracks, mostly over The Roots instrumentals. What's the purpose of this EP and significance of using The Roots instrumentals?
Human: The title I'm Glad He's Dead is in reference to me being proud of the personal growth I've experienced, and how elated I am that the person I used to be isn't along for the ride. The Roots embody hip hop to me; Black Thought is the most consistent rapper that ever graced the mic in my opinion. From the 80's to now, he's done nothing but improve. On top of that, being in possession of all of their albums, I can say that I haven't heard a bad song from them. They really bleed into every track, and the beats on their J Dilla tribute instrumental album, which is where I got the beats from, is no exception.
5. If you had to assemble a posse cut for your next project, what 5 rappers would you want on there?
Human: Defcee (@defcee), Guy Sharp (@HolyLukeG), Qari (Long Live Carl), you (@TrueGodImmortal), and Syd Shaw (@Afrosydtricity)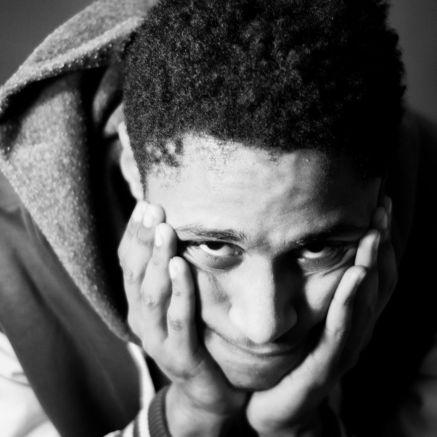 6. Taking a departure from hip hop for a second, after the Ferguson situation and continuous issues with police brutality, what's your stance on this matter?
Human: The night of the announcement of whether or not Officer Darren Wilson would be indicted, I went out with a bat with the intention of looting. Mere seconds before shattering a window, I stopped and thought. White supporters of Wilson made him a millionaire through donations. Black supporters of Brown destroyed his neighborhood. I thought about the fact that if I were killed by a coward hiding behind a badge, I would want people to help my mom and my sister with donations. I ended up disagreeing with the idea of looting, but then again, white people have done it over dumb shit. There was a pumpkin festival or something that culminated in white people literally flipping over and incinerating cars. I can't really get mad at my own people for getting that mad over something that actually matters. In the end, the 2nd biggest criminal in the entire situation (behind Wilson), is the shamelessly sensationalist media for exploiting Brown's death to such a degree that almost a year later, nobody has any way of knowing what the hell happened without using conjecture.
7. Now, without getting too much into it, you're in a serious relationship, at what some might say is a very young age. How do you make that work?
Human: I'm not in a relationship. When I was, I did a poor job of balancing the responsibilities I was supposed to be handling. I would lie to myself and everyone around me about it, but in the end, I wasn't nearly as productive as I was before the fact. I love her and the memories we shared, and we're cool, but I'm moving on. Not to another woman, either. The only way I can function at my full potential is solo. Relationships are expensive because you're not just paying in money. You can get money back. You're paying in time, the most valuable currency there is. It's a dangerous game, too. I'm Glad He's Dead should have dropped ages before it did. I was having fun and everything, but it's time for work.
8. Getting back to the music, what's your next move/project?
Human: So, I was in class with this guy last year (I'm majoring in Music Business at Columbia) and after class he let me hear this beat. It was really hard-hitting. We went back and forth rapping over it, exchanged numbers, then completely fell out of contact. A few weeks ago, we got back in tune and we rapped for each other again. He blew my mind with his new joints, I blew his mind with mine. He had me come through to his spot, and the man is extremely well versed in audio engineering (we met when that was my major, before I switched). He also has the bread it takes to afford the necessary equipment. Since both of us are constantly cranking out work, we're putting together a few projects. I write constantly, he produces constantly, and that's a formula I'm really feeling. I also met a very skilled female MC who can sing like a pro. We've had a duo project under wraps for about a year, but as of recently, we started working on it again. It's definitely going to be mean.
9. What do you want your legacy to be?
Human: I want to inspire artists to try. I want the state of music in general to improve, because, much like Chicago, a lot of people involved in the game want to benefit from it and get out of there. I don't believe in that. Some people live by the code of getting as comfortable as possible before dying, but I want to touch as many lives as possible before dying. That also means going back to my hood and establishing job opportunities to keep money flowing where the mayor doesn't care enough to lend a hand. I'm a firm believer that all of the ignorant, prejudiced people that call us animals are wrong, and that inner city crime takes place on a basis of necessity. If the neighborhood was nicer monetarily, there wouldn't be as much crime, and there wouldn't be such a negative stigma assigned to it.
10. Last words or shoutouts?
Human: I want to give a shout out to my friend Daniel. My first song I ever recorded was with him, and right now he's finding God. That makes me really happy because it wasn't like that in high school. Shoutout to Niko, Spazz, Ocean, New Kingz, Hooligan, Josiah, Chris, Mikey, and Ramaj Eroc.